Timber Craftsmanship
We choose to use people, not machines to craft your timber joinery.
Every timber that goes into your home is hand-crafted by our shop team at our headquarters in Western New York. Unlike post and beam homes, our timber frame designs rely on age old joinery techniques that utilize hand-cut mortise and tenon connection joints. We begin with responsibly sourced timbers, which are cut to length based on drawings by our design department. Depending on the location and use of each timber, our framers will carefully mark out the joinery dimensions and begin cutting.
Shaping joinery out of a full timber is a process of reduction. We start with the biggest saw in the shop and whittle your timbers down, progressing from power saws and drills to simple hand chisels, mallets, planers, and razor knives as the intricacies of the timber frame emerge.
By using these traditional timber framing methods we create a home rooted in nature and in centuries of craftsmanship. See for yourself in our timber frame image gallery. These techniques are on display in every joint and every timber of your house, creating a one of a kind home that will last generations.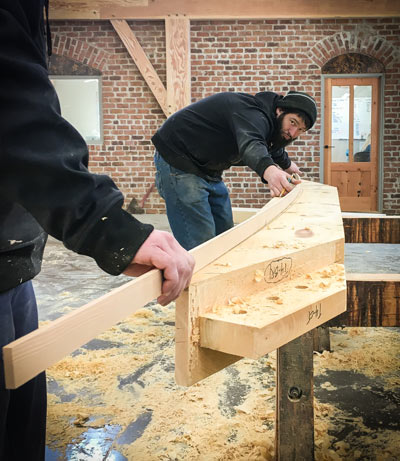 Timber Assembly
After the joinery is cut and chiseled, our framers assemble your timber frame, section by section, piece by piece inside our shop. We use a combination of clamps and manpower to push and pull your frame together, hammering in walnut pegs to secure the connections. Every joint is tested, including every post, girt, joist, and truss.
If something doesn't fit perfectly, the timbers are carefully separated, crafted further, then reassembled until everything fits just right. Off-site fabrication is big part of our green construction process.
Moving timbers is no easy task.
Our timber frame homes typically feature 10" x 14" ridges, 10″ x 12″ rafters, 8″ x 10″ porch posts, and 8″ x 10″ (or 8″ x 6″) floor joists. These are huge, extremely heavy pieces of wood — so in addition to utilizing a handful of forklifts, our shop guys do a lot of old-fashioned muscle work.
Every once in a while you'll catch them lifting some superhuman weight or casually shifting a thousand pound timber from one saw horse to another.



Timber Finishing
Once a precise fit is assured, the timbers are marked with an identifying number at their ends so they can be efficiently reassembled during the on-site construction by our travel team. Then the timbers are finished — a process that includes routering the edges, sanding, and staining with one of our many custom finishes. Pegs are cut, sanded and stained to your liking as well. Every detail is catered to fit the taste and the style of your home. Once completed, your timbers are carefully loaded by our shop crew onto a truck for delivery at your property — anywhere in North America.
Our field crew gets a lot of well-deserved credit for assembling a house in a week or two but it's an illusion. Our shop guys are the unsung heroes behind every home we build. Their painstaking process is instrumental to the speed and precision of everything that follows. And it's their artwork on display in every timber, every walnut peg anchored through all of the joinery in your Timberbuilt home.