Timberbuilt's Timber and Panel Pricing
Everything that's included in Timberbuilt's portion of your budget typically costs between $80 and $100 per square foot, depending on the exact choice of materials, finishes, and floor plan. This takes care of your design, engineering, and the timber and panel assembly by our team.
DIYers (we supply the timbers and panels, you install) can expect to spend between $65-$80/sq. ft.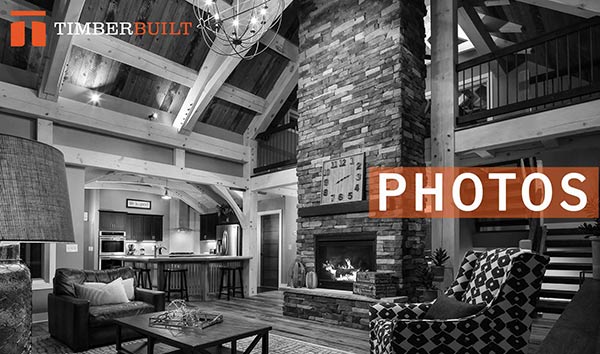 Full Pricing: Timbers, Panels, And Everything Else
The costs for your contractor or subcontractors can vary widely but they usually boil down to budget. We have built with do-it-yourselfers who provide sweat equity.
We've also worked for clients with top shelf tastes and a budget to match. In any case, our Budget Set of drawings can be a helpful estimation tool.
With that said, we know this — over the years, the quality of our homes — like the ones you see decorated in these web pages — generally can be priced between $225-$300/sq ft. for above grade living space.
Do-It-Yourselfers can expect to spend somewhere around $175-$200/sq. ft.* Basements can usually be finished somewhere in the $100/sq ft. range.
*These numbers include our costs and offer an approximate guide to loosely estimate your entire budget (minus your land costs).
Obviously your cost will depend on many factors including which home you build, the land you're building on, and the finishes you choose.



CHANGES FOR FREE / REDUCING COSTS
Most of our plans are very flexible and we can make changes without a significant rise in cost. Subtractions — such as removing exterior elements (they may not be your thing) can reduce your cost.
WHY TIMBERBUILT?
Here are a few more points to consider:
•  Our hybrid timber frame designs maximize the visibility and load bearing strength of your costliest materials (the timbers) but minimize that cost by using SIPs panels to carry the load between posts and in less visible parts of the house.
•  Using pre-cut SIPs allows for a very precise fit that reduces waste and lowers the labor cost because they are easier to assemble.
•  SIPs from Insulspan carry a 20 year warranty and provide the foundation for a home that can cut heat loss by up to 60% compared to traditional stick-frame construction.
•  Because of the precise airsealed fit of our timber and panels your home will require a smaller HVAC system. Utility bills are smaller, as is your carbon footprint.
•  We ensure our timbers and panels are installed correctly for load and for energy efficiency by sending our own team to do the job — anywhere in North America.
•  Our timber-frame homes typically feature 10" x 14" ridges, 10″ x 12″ rafters, 8″ x 10″ porch posts, and 8″ x 10″ (or 8″ x 6″) floor joists. These timbers are huge and in many case go beyond structural necessity to make a bold design statement.
•  We use cedar for our exterior timbers because it weathers the elements well.
•  All of our timbers have thoughtful details, including routered edges and curved braces. Each timber frame home is designed to maximize the inherent beauty of these exposed timbers.
•  Our designs allow you to build a smaller footprint, while realizing a larger volume of space.  Forget square foot and instead consider cubic feet in your home design.  Because the insulating envelope is contained within the roof plane, rather than the ceiling, our timber frame homes feature dramatic living spaces and loft areas.
•  We choose to use people, not machines to craft your timber joinery. Western New York may be going through tough economic times, but we still breed men and women with a cast iron work ethic who take pride in creating our homes. We believe that meaningful, satisfying jobs create great employees and that this benefits our communities as well as our clients. Our shop workers are hyper-focused perfectionists, tireless and meticulous in preparing your timbers for an easy install by our field team.
•  When our field team travels across North America they represent us, our small-towns, and our families through their unwavering commitment to build your home to exact specifications — paying extra attention to installing a seamless enclosure, inspecting as they go, inch-by-inch, to seal out air and moisture. They also refuse to be outworked — through rain, snow, sleet, wind — they get it done, anytime, anywhere. We couldn't ask for a better bunch of ambassadors.