After months of planning, nothing quite compares to the satisfaction of watching your house take shape in just a few days.
CONSTRUCTION TEAM
Our installation team is a fast, detailed unit of competitive workers.  We send you educated, high-motor problem-solvers who pride themselves on assembling your timbers and panels so that everything sits square, level, tight, and as close to dead solid perfect as humanly possible.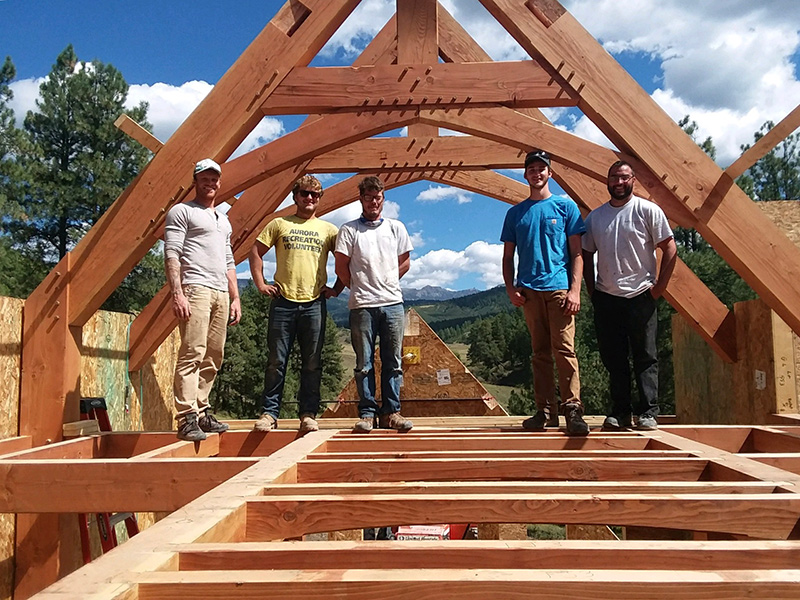 CONSTRUCTION LABOR VALUE
Pound for pound, dollar for dollar, in our humble opinion, we boast the most efficient small-unit install team of its type anywhere. It allows us to be cost-competitive while offering superior workmanship.
Our clients are consistently blown away by the pace and intensity of our job sites.  You will not wonder for a split second whether you are getting the very best out of our crew.  We don't send extra guys to stand around and sweep all day.  You can pull up a chair and watch our guys go 110% in any conditions imaginable — rain, sleet, snow, wind, heat, cold — they will execute the job with outstanding quality regardless.



TYPICAL STEPS OF TIMBER FRAME AND PANEL CONSTRUCTION
You are responsible for site preparation — clearing the lot, building the foundation (and any specified decking), and giving us space to work.
Once we arrive, our team will:
1. Measure and mark your foundation so that all walls and timbers are set in the correct places — everything's square.
2. Offload trucks at your site. We packed one of them ourselves — it arrives carrying all of your timbers and our tools from New York. The other trucks are from our SIPs partners at Insulspan in Michigan. They carry your walls and roof.
3. Sort all of our materials and assemble the walls and timbers in sections on the ground.


4. Use a telehandler to hoist the walls and timbers to the foundation where we anchor them in place.
5. Airseal all interior joints with tape and add tongue and groove ceiling sections.
6. Hoist and anchor down the roof.
7. Airseal the roof with foam insulation at all joints.
8. Assemble and mount any exterior details on porches and decks.
9. Clean up and head home.


RESPONSIBLE CONSTRUCTION BUILDING
When we arrive at your property, our aim is to represent our committment to green building.
We strive to perform every task with minimal damage to the environment and the surrounding property.  Our systematic building style and expert logistics ensure minimal job site waste.  We bring what we need and ONLY what we need, whether it's tools, materials, or manpower.
Pack it in, pack it out.