By hiring us to design and erect your timber frame, wall panels, and roof, you are committing to a collaboration in building your home. The extent of your involvement is up to you.
Whether you act as your own general contractor, perform a full DIY timber frame build, or hire a general contractor — make no mistake: we are only a piece of the building team. Timberbuilt is your architect, your engineer and your timber-framing workforce built into one but our process relies on your local tradesmen to shingle the roof, install the siding, drywall, and all of the finishings and mechanicals.
By sticking to what we are best at, we can offer our services to anyone across North America.  We've found that combining Timberbuilt with local tradesmen is the most cost-effective option for you to receive the highest quality of workmanship throughout your home.
Here's how to get started: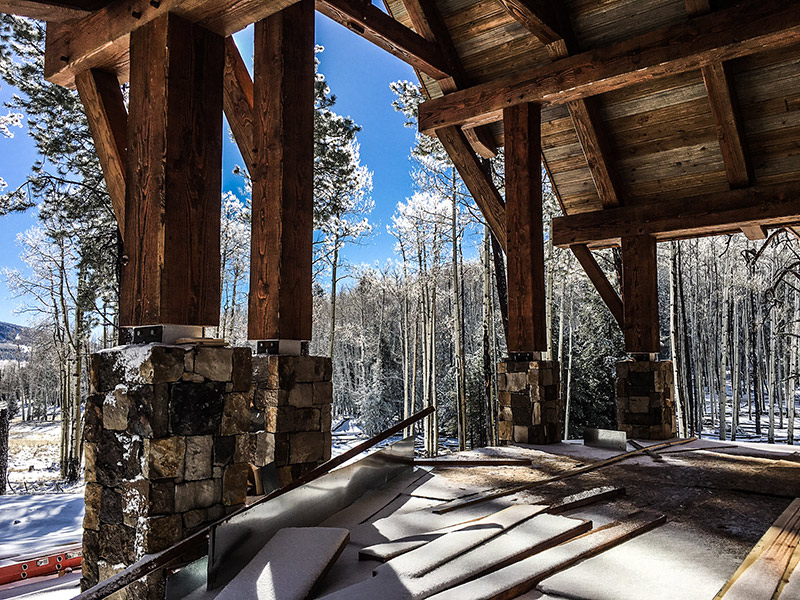 Step One:  Select One Of Our Timber Frame Designs
Choose from among our core designs and sketch any minor changes.
Step Two:  Commit To A Budget Set Of Drawings
We start our job by developing a cost-effective, abbreviated set of drawings and plans to bring your home into a workable form and to determine whether the house you've envisioned fits your budget.
This Budget Set of drawings includes:

• House plan modifications
• Hand-rendered floor plans
• Basic dimensioned deck plans
• Hand rendered front elevation (with generalized notes)
• Model images
• Sections and details
• Schedules
• Garage kit (if applicable)
• Timber and structural insulated panel (SIP) contract proposal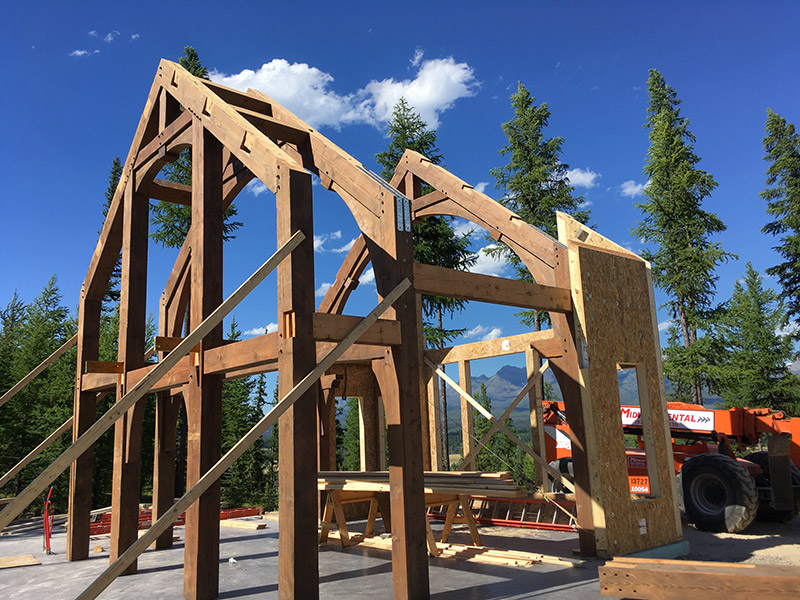 Step Three:  Hire A Local Contractor
We package our Budget Set of drawings to help you and your local contractor begin making decisions  on all of those finishing details (windows and doors, utilities, floors and walls) that will greatly influence the cost of the house.  And if you don't have a local contractor, your Budget Set is designed to help you find one.
Step Four:  Sign A Contract
This includes details for your timbers (species and finish) and for your panels (thickness and r-value).  Installation and materials pricing are included as well.
Step Five:  We Finalize Engineering
Step Six:  Build The Foundation
Your local contractor does this, according to our specs.
Step Seven:  We Cut Your Timbers and Craft The Mortise and Tenon Joinery
At our facility in Buffalo, NY our shop craftsmen with steady hands and razor sharp tools are the surgeons who bring your home to life as they chisel into eastern white pine, douglas fir, black walnut, and cedar.  We solve any problems before we leave home, assembling your entire timber frame in sections to assure a perfect fit.  Once the timbers are sanded and stained, our team personally loads them onto a truck for shipment to your site.
Step Eight:  You Plan Your Exterior Finish Work
Prioritize decisions regarding your roof system, electrical, siding, windows, and doors.  Once we complete the shell, you're contractor can step in and fully weatherize the house.
Step Nine:  We Install Your Timber Frame
We arrive on site after the foundation has been poured and receive the truck full of timbers, along with a second truck, which delivers your wall and roof panels (SIPs) from our partners at Insulspan.  After we finish building your timber frame and installing the panels (typically within a week or two) your general contractor can come in and finish it.
A Video Of Our Timber Frame Process
The video below offers a clear look at what we do, how we do it, and what's included in our package.
Notice the absolute precision of our timber and panel assemblies.  All of the seams are foam-sealed and taped.  It's this attention to detail that helps make our homes so efficient.