Crista and Scott Bennett's DIY:  The Bennett Ridge
Crista and Scott Bennett are do-it-yourself remodelers with two complete house makeovers to their credit. With each project the Bennett's process was the same: purchase a house, assess its strengths and weaknesses and do everything possible to make it appealing to prospective buyers when finished.
Last year Scott and Crista started a third DIY house project, this one with a different focus and a very different purpose.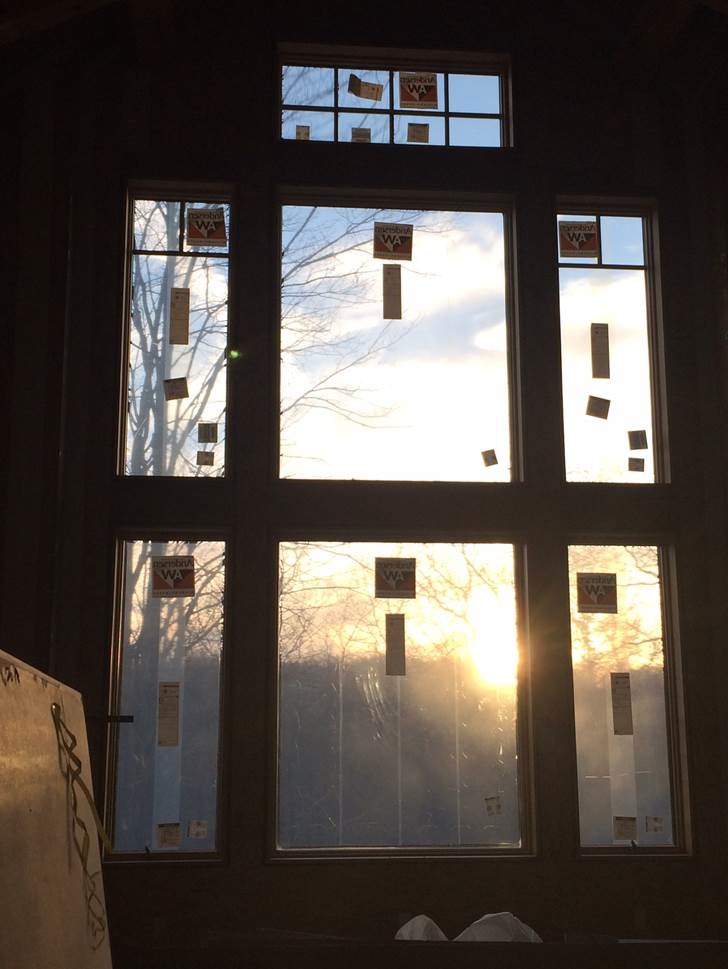 "With the other projects we would find a house, buy it, fix it up and move on," Crista said.  "But this time we knew we were building our dream house and we were going to make it perfect."  To which Scott adds, "This house is the very best that we know how to do."
Plans for the Bennett's dream home began with 72-acres of wooded property in the northwest region of Pennsylvania. Scott describes the land as highlighted by a beautiful ridge sloping to a valley where, "a nice little creek runs". He notes that it was actually the topography that led to the naming of their home.
"After we chose Timberbuilt, the next step was to lay out our plan with their designer, Adam Scott. We began by sending photos of the property and when Adam saw the ridge, he just came up with the name, The Bennett Ridge".
Once Timberbuilt completed the Bennett Ridge design plans and crafted and erected the timber frame, it was Crista and Scott's turn to get to work.
However this time, there were two significant differences in their DIY routine. Children were now a very active part of their lives, significantly impacting their timetable.
"With a four year old and a one and a half year old, I can't get over to the house and get my hands on it as much as I would like, Crista said. "While it has slowed our progress it hasn't changed our dedication to making this house something we will be proud of in the end. We are totally dedicated to taking our time and putting as much of ourselves into it as we can."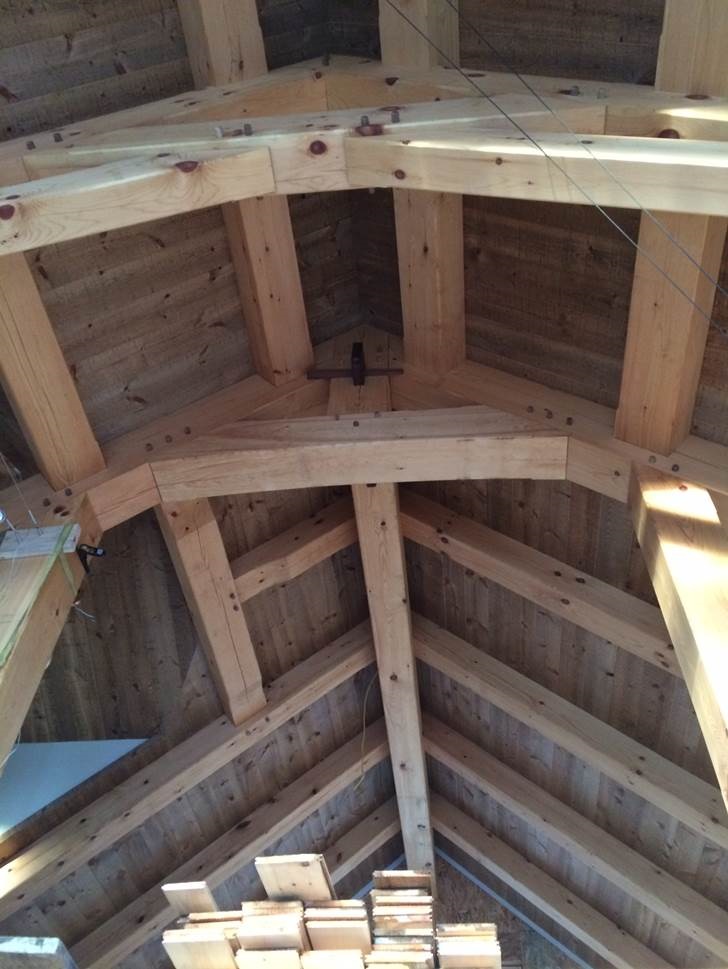 The efforts Scott and Crista have put into the Bennett Ridge to date include clearing the lot, creating the driveway, setting the foundation corner posts, digging footers for porch columns and the garage, installing the electrical service and conduit for phone and TV, designing as well as installing the electrical system.
They also installed a water system, including a 1300 gallon tank and a spring collection system as well as a septic tank, pump tank and sewer line. Still to come is interior trim work and possibly exterior stone work.
What the Bennetts decided not to undertake was framing, plumbing, installation of the geothermal system, interior drywall, and the exterior siding. When asked if the work on this house differs from their previous DIY projects the Bennett's give individual answers.
"With our first two houses, cost was definitely a major reason that we did the work, but with this house it's more about making it as perfect as we can," Scott said. "Truthfully, these days hardly anybody works like they are working on their own place. So while my work may never hit perfect, it's always better that what any other guy would do".
"We had a budget in mind and the numbers for the most part have been what we expected", Crista said.  "But this is our dream project and we don't intend on ever leaving, or selling. So whenever we've had to make a choice that took us outside of our budget, we generally chose what would make this house a place we will always want to be. Doing the work ourselves helps makes that possible."
Scott acknowledges that finishing a timber frame house presents unique challenges from the materials through to the execution. The fact that he is an electrical engineer by trade has definitely helped the process. He also gives credit to Timberbuilt for their technical support.
"The best thing about Timberbuilt is that they are just the right size company. They're not so big that they are missing the personal touch and they're not so small that they don't have the up-to-date design and construction technology. And anytime we called either of the Adams (Timberbuilt Production Manager, Adam Lincoln and Timberbuilt Designer, Adam Scott) they were very helpful, not only in listening to our questions, but in giving us explanations we could understand and follow."
The Bennett's plan on moving into their dream home by "July" (Crista) or "August" (Scott). Yet they both agree on the fact that whenever they move in, they're staying put.
"This house is amazing, especially the Great Room" Crista said.  "It has a wall of massive windows looking out over the property and we just love it. We can't wait to sit there by the fireplace, surrounded by all of those gorgeous beams. Once we do, we're never going to want to go on vacation. We'll just always want to be home."
With the final words going to Scott, "When we finish this house it will be one of the biggest accomplishments of our lives."