GEORGE KLEMENS, FOUNDER

"At the end of the day, when you build houses wisely — with more energy efficiency — you give future generations a chance to experience things in nature that have been significant throughout time."
George's passion for home building and the natural world first cross sectioned through his work as a builder and hunting guide in the wide open spaces of Montana and Alaska. Upon returning to his home state of New York, he began experimenting with his "green" timber home ideal.
"In its infancy, creating a timber house meant putting up a timber frame with a stick house around it. While it looked awesome, it didn't make sense. SIPs changed all of that. When we combined the two we had a winner. And as we built, we refined the process making houses that are off the charts efficiency wise — using the panels to their insulating strength and the timbers to their structural and esthetic strengths.
From there we wound up with the great benefit of super energy efficiency and more flexible interior spaces. In turn, we could install smaller heating and cooling systems — easy keepers — which made the houses more cost effective to build and operate.
Longevity is also part of the green thing. When a house or a building lasts, it's for a number of reasons. It's made from materials that are durable and will last, like timbers. It's manageable to maintain and operate, so it doesn't require an overwhelming amount of work or money. It's design is based on a combination of form and function. These are the elements of a Timberbuilt that make our clients love their homes and in the end, people take care of what they love. "
George adds a final step to his green building ideal that completes the cycle.
"And when the day comes when the house is no longer viable, you take it down and repurpose the timbers and recycle the rest. Living in a wood home is a lifestyle. It isn't about having a shinier home than the next guy; it's about nature, being environmentally respectful, and seeing the bigger picture."
BRIAN KEMPISTY, PARTNER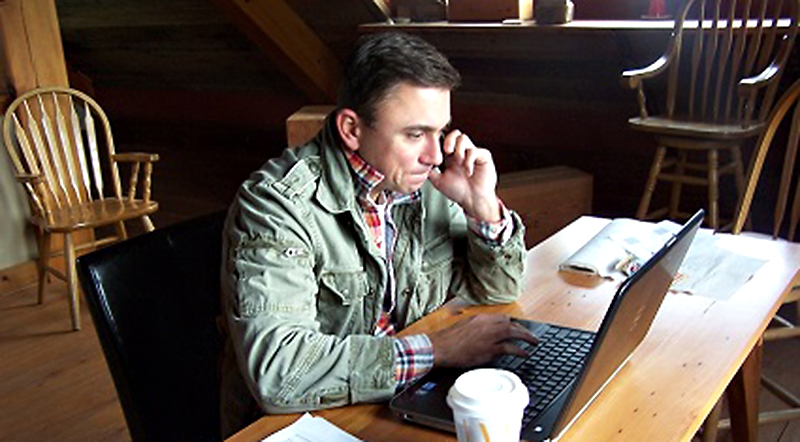 "At the time, I was a partner in a national transportation brokerage company, but I knew that I wanted to partner with George."
"My wife and I lived in a nice little timber frame house in Ellicottville, New York and we loved it. But they started developing nearby so we began looking for land to build on. Eventually we found a piece of hillside acreage with a view and knew it was the perfect spot."
Brian began his search for a timber framer by reaching out to varied sources in locations across the United States. At the end of the day, Timberbuilt was his builder of choice for one main reason.
"George came out and walked almost the entire 100 acres, determining not just the house we wanted to build, but the best way to execute the project. He talked about the setting and the view — where the sun rose and set — as well as the design of the house, making sure it would all come together. Then he drew a design on a yellow piece of paper and said, 'Just trust me, it's going to be great.' And we did. We had great confidence in George as a person and as a designer that we were going to get quality design and construction work in our home."
Two and a half years after that walk, the Kempistys moved in to their dream home. Throughout the process Brian and George built a 7,000 sq. ft. house and forged a friendship founded on a shared passion for the timber home lifestyle. It was that professional and personal alliance that added a Timberbuilt title to Brian's resume.
"At the time I was a partner in a national transportation brokerage company, but I knew that I wanted to partner with George. After the sale of the company was complete, I started working more closely with George in making Timberbuilt a nationally-recognized timber home powerhouse."
Seven years later Brian describes his prime contributions to the company as helping define the Timberbuilt, "look" and taking that vision national. Noting his design concept as a signature series of plans that he imagined while building his own home, Brian defines his vision as, "… right-sized timber frame homes at a reasonable price — allowing people to live in their timber frame dream home and enjoy the timber frame lifestyle.
"No one does timber home building the way Timberbuilt does it, with panels and timbers packaged in our hybrid design. And we don't just drop that package off on the building site and say, 'So long', like many other companies.
We execute the timber and panel package with our own crew. A Timberbuilt truck shows up, with Timberbuilt guys, wearing Timberbuilt shirts. Our team shows up onsite. We build the frame and install the panels. We're with you from design through installation."
ADAM LINCOLN, OPERATIONS MANAGER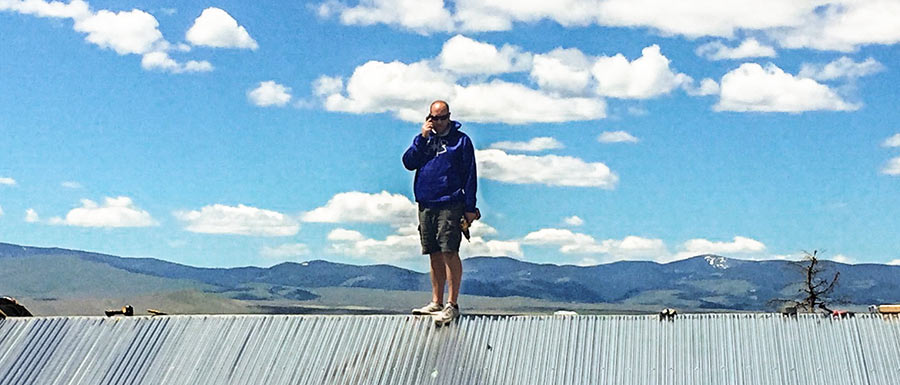 "I was working at a design build company and one day I literally walked out of a meeting — where management announced the company was closing — to a message from George. He wanted to interview me as an architectural designer."
The early days of Adam's Timberbuilt career were spent working with George in a 10'x12′ office. The close quarters remained their standard for two years while they evolved as mentor and student.
"At the time, the new office was in the planning stages and the old office had no running water and a port-a-potty outside. Truthfully, I didn't know if I would make it. But as we worked together, George made me feel like I was part of something special. He is a hands-on person and he passed that trait on to me."
As Adam advanced from company designer to operations manager, his expertise expanded to ordering and coordinating project materials, generating production drawings, coordinating labor in the shop and at job sites, and creating the construction schedule. It's a challenging job.
"I have to say that every project has a point where you question if you can get it done. But I like pulling all the pieces together into the end result of a Timberbuilt home or commercial building. It's hard making all the logistics come together, but I like the challenge. I also like establishing good relationships with our clients. The clients are what makes each project special.
I feel like I've been put in a very unique situation to be able to learn all aspects of this company. As a bonus, George and Brian are a great team to work with. George has this amazing ability to feel the spaces he's working on and designing. It's like an innate sense of where timbers should go in a room or an area. And Brian brings a strong business sense and customer service dedication. He's a good listener and understands what people are looking for. Plus there's nothing like taking drawings out to the shop and an hour later going back out and seeing the timbers being custom made. I guess if I could have created the perfect job for myself, this would be it."
Adam Scott
brings his unique talents to the design table, collaborating with George and Brian in imagining and designing  our timber frame homes and commercial projects.
Sam Gonter
helps new clients get started with the Timberbuilt process and adds her creative spark to the designs.
Kathryn Armbruster
is the voice of Timberbuilt in managing the office phone system. She's also responsible for payroll and accounts.